Partnerships
The EPC has forged a strong consortium of partnerships to help coordinate, implement, and evaluate our efforts to build college-bound communities.
We believe that communities are at their strongest when all P-20 educational institutions — from pre-kindergarten through university — join together to look at the realities of current student achievement, determine common goals, and create a plan of action to achieve those goals.
We believe partnerships between PreK-12 educators, community college administrators, university faculty and engaged community members will build systemic change towards educational equity.
Together, EPC and our Partners:
Analyze current data on student achievement
Align curriculum goals across institutions
Provide professional development towards meeting those goals
Develop self-efficacy for students and advocacy roles for parents
Mobilize community resources to support educationally disadvantaged students to achieve their educational goals
The EPC was recognized as one of seven effective California partnerships in the California Academic Partnership Program's report, Raising Student Achievement Through Effective Education Partnerships.
Partner Schools & Districts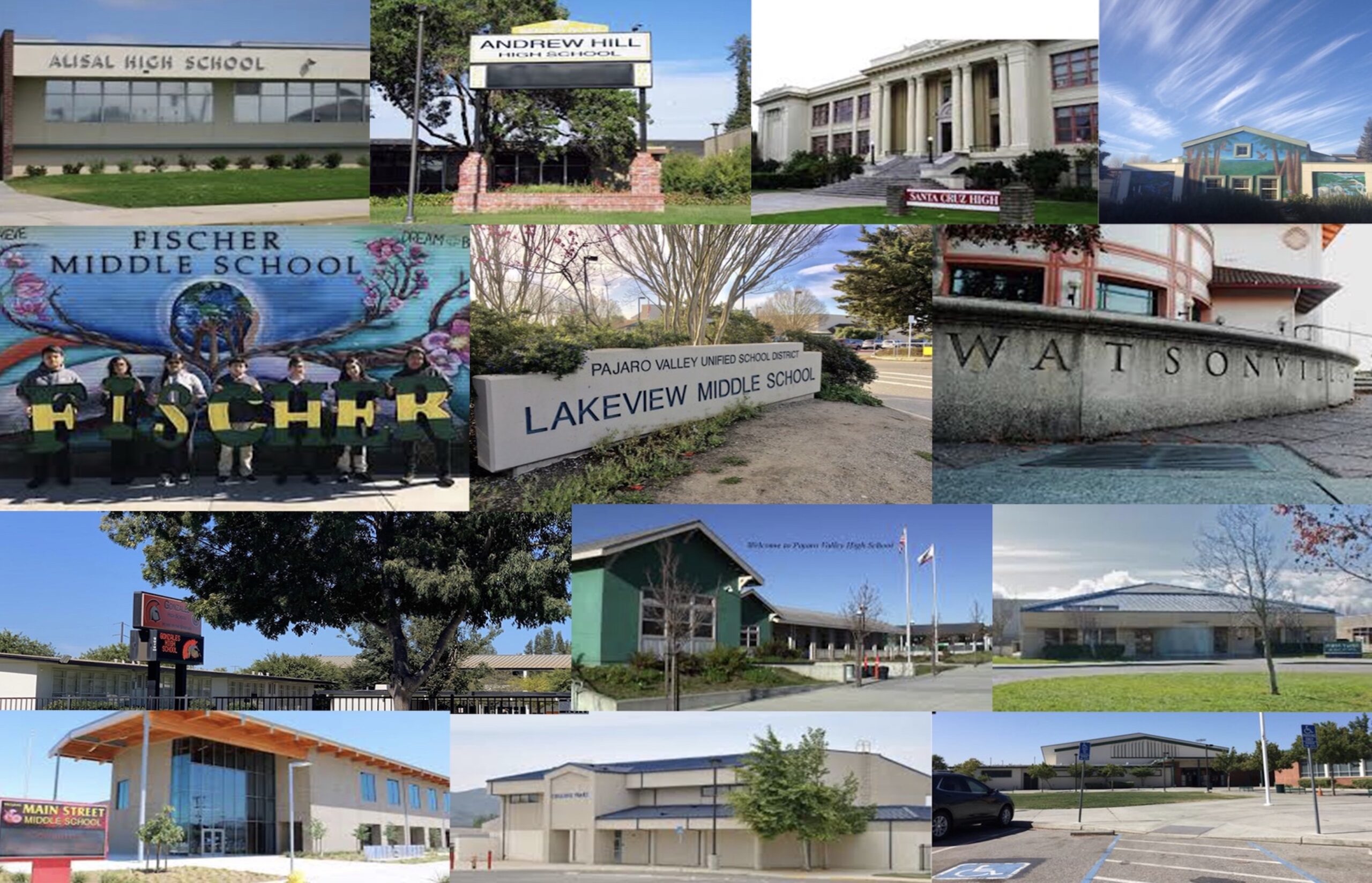 EPC partners with the following school districts and school sites to provide important college and career preparation services
School
Name
Alum Rock Union Elementary School District
– Fischer Middle School
– Joseph George Middle School
– William Sheppard Middle School
East Side Union High School District
– Andrew Hill High School
– James Lick High School
– W.C. Overfelt High School
– Yerba Buena High School
Franklin McKinley School District
– Bridges Academy
– Sylvandale Middle School
Gonzales Unified School District
– Fairview Middle School
– Gonzales High School
Greenfield Union School District
– Vista Verde Middle School
King City Union School District
– Chalone Peaks Middle School
Monterey Peninsula Unified School District
– Marina High School
– Seaside High School
North Monterey County Unified School District
– North Monterey County High School
– North Monterey County Middle School
Pajaro Valley Unified School District
– Alianza Charter
– Aptos High School
– Cesar Chavez Middle School
– E.A. Hall Middle School
– Lakeview Middle School
– Pajaro Middle School
– Pajaro Valley High School
– Rolling Hills High School
– Watsonville High School
Salinas Unified High School District
– Alisal High School
– El Sausal Middle School
– Harden Middle School
– La Paz Middle School
Santa Cruz City High School District
– Branciforte Middle School
– Harbor High School
– Santa Cruz High School
Soledad Unified School District
– Main Street Middle School
– Soledad High School
Offices of Education
– Monterey County Office of Education
– Santa Clara County Office of Education
– Santa Cruz County Office of Education
Community College
– Cabrillo College
– DeAnza College
– Evergreen Valley College
– Foothill College
– Hartnell College
– Mission College
– Monterey Peninsula College
– San Jose City College
– West Valley College
Universities
– California State Monterey Bay
– San Jose State University
– University of California Santa Cruz
In addition to our work with schools and districts, EPC works closely with organizations throughout our community to support our mission of expanding post-secondary educational opportunities for students who face significant barriers to college.

Bridging Multiple Worlds Alliance


Santa Cruz County College Commitment (S4C)